What? What's that? You're TIRED? Gracious, grab a latte, people. We're just GETTING STARTED here! This is Day 3 of the TWELVE-DAY holiday madness here at Women and Words. The elves have only just finished with the tree (they managed to practically burn down the menorah — don't ask) and last I saw, the reindeer were setting up for a rave.
Running through the snow
with armloads full of books
there's lots of stuff to read
c'mon and have a look!
bells on elf hats ring
making spirits bright
what fun it is to roll in snow
because it's quite a sight!
OHHHHHHHHHHHHHHHHH
jingle books jingle books
jingle all the way!
Oh what fun it is to play
with books all freaking day! HEY!
Welcome, friends, to Day 3 of the Holiday Hootenanny here at Women and Words! Below, you'll find today's offerings. To enter today's drawing, leave a comment on today's blog. Please include an email address in the fill-out form, but do NOT include an email address in the body of your comment (don't worry, nobody but the elves will see). The elves are trying to save you from spam-bots. One entry per person, please. There are lots of opportunities to win. Share the luv. 🙂
Speaking of sharing the luv, THANK YOU SO MUCH to all the authors and publishers who have contributed this year to make this event a freakin' fiesta fabulosa!
Okay, anyway, sweeties, it's way too confusing for the elves if you try to sign up for a particular book. So here's how it works. The first name drawn gets the first book on the list below, and so on down the list. Authors, if your book is in today's offerings, please refrain from signing up for the drawing because that's kind of weird, if you win your own book. I mean, you've already read it, right? 😀 Thanks.
The drawing closes at 10 PM EST US. Here's your world clock link for those of you not in the US. We then do the drawing and pass the winners' contact info along to the authors, who will contact you directly. And we also post the winners on this blog. Give the author a little lag time to contact you.
Okay, let's rock n' roll, people! Go get yew some books!
ANN MCMAN AND SALEM WEST – Melissa Grace


1 copy of the latest release from Ann and Salem! Life, love, and fun through America's heartland. Line supervisor Jill Fryman works at a truck manufacturing plant in Indiana. Sultry union organizer comes into town after the company is bought by a Japanese firm. Sparks fly between Jill and the organizer, and fun and craziness ensues as only Ann and Salem can tell it.
FAY JACOBS – Sharon Clark


She's back! Fay's latest Rehoboth Memoir, Time Fries, is brand spankin' new and ready for public consumption! Here, Fay decides NOT to act her age, NOT to go quietly into Medicare, and NOT to miss any fun. Join Fay in another installment of her hilarious take on life, retirement, and a sea-change in marriage equality politics. The winner gets a paperback copy.
MARI SANGIOVANNI – Jen Marie @ A Lesbian Reads


Winner gets 1 copy of Mari's latest, Camptown Ladies. Join Marie Santora and the Santora family for another crazy adventure when Marie's sister tries to transform a run-down campground into a gay and lesbian paradise. Hijinks invariably ensue!
JOAN OPYR – Robin


Winner's choice of any of Joan's books: Idaho Code, OR From Hell to Breakfast, OR Shaken and Stirred. Join Bil on her wacky Idaho adventures and mysteries in Idaho Code and From Hell to Breakfast or hang out with Poppy on her bittersweet but hilarious journey into her past and future when she returns to the East Coast to help her dying grandfather. Life and love as only Lambda nominee and Goldie winner Joan Opyr can tell it.
COLETTE MOODY – Earlene


1 paperback copy of Colette's latest, Parties in Congress! Bijal Rao has her first paid political staff appointment, and she's trying to get her candidate elected to office. But what happens when she realizes she's really attracted to her candidate's political opponent? Filled with laugh-out-loud scenes as only Colette can spin 'em, if you win this one, you'll find out what happens.
SALLY BELLEROSE – onamarae


Winner scores 1 paperback copy of award-winning Sally Bellerose's The Girls Club. Follow the lives, loves, and laughs of working-class lesbian life in the 1970s.
BETH BURNETT – Beth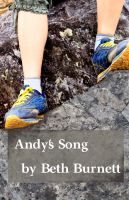 Winner gets 1 copy of Beth's latest, Andy's Song in either paperback format or ebook. Meet Andy, who's got money, and all the casual sex she could want. But lately, that's not enough, and she's trying to figure out if there's more to life than that, especially when she meets someone who is looking for more than just casual. Can Andy open her heart to possibility? Grow a little? Change a little? If you win, you'll find out!
SANDRA MORAN – Joni Youse


In 1997, Joan O'Connor travels back to Kansas to clean out her estranged mother's house following the latter's death. She discovers a box of trinkets and sealed letters never sent to someone identified only by an initial. Joan soon learns that her aloof, inflexible, unyielding mother was anything but, and that the woman her mother had met in 1930s Chicago was a secret her mother had kept for decades, through a marriage to a man she grew to hate and a relationship with a daughter from whom she's grown apart. Winner gets a copy of this, Sandra's debut novel, in either print or ebook (note: print shipped to US only). And people, this is a recent 2013 Rainbow Award WINNER for best lesbian debut novel!
BAXTER CLARE TRAUTMAN – iamaschlie


source
Winner gets 1 ebook or paperback copy of Lambda nominee Baxter Clare Trautman's The River Within. Three women. Three lies. One chance to tell the truth.
JEANINE HOFFMAN – Sue Thue


Four women whose lives intertwine. They will soon face a crisis that will have them either torn apart or realizing that there is Strength in Numbers. Winner gets a print OR ebook copy.
DEJAY TWO BOOKS, TWO WINNERS! – Allison Mugnier & Trish


Justina Murphy has been on the streets since she was 13, thrown out of her house because she's gay. She spent the last 30 years building a life for herself. Victoria Cartwright is a social services worker who's trying to convince Justina to open her home to two strangers, Jesse and her baby sister Brianna. Jessie is attending Catholic school, and even in 2003, her struggles with her sexual identity can cause problems. When these three strangers come together, there are fights and tears but also unveilings. Each of two winners will receive an ebook of Strangers.
KAREN BADGER TWO BOOKS! TWO WINNERS! – Cris Perez & bookishbutch


You've read her fiction for years. And you devoured her award-winning published work. So here's your chance to score one of her books. Choose from On a Wing and Prayer, in which pilot Cassidy Conway decides to leave her self-imposed emotional exile following the death of her lover and contact science fiction writer Roxanne Ward after seeing her photo on a book jacket. Roxanne is dealing with her own issues, including an abusive relationship, but she welcomes a new friendship, but it sets off a chain of events filled with suspense.
Karen's also offering a copy of Yesterday Once More. It's 2105, and Jordan Lewis is working with doctors to restore her mobility from the waist down. She comes across the diaries of Maggie Downs, a woman who died a hundred years before in an accident a lot like Jordan's. Jordan is convinced that Maggie, who is haunting her dreams, is trying to contact her. Can she bridge time and space? Win it and find out!
AND!
BEDAZZLED INK PUBLISHING – Lisa W
Winner's choice, one print or ebook. Hit the link to check the catalog.
BLUE FEATHER BOOKS –Watty
Winner's choice, one ebook. Hit the link to check the catalog.
BOLD STROKES BOOKS – Peggy Adams
Winner's choice, one print or ebook! Hit the link to see the goods!
BYWATER BOOKS – DEHELEN
Winner's choice, one ebook or one print book! Click the link to see the goodies.
SAPPHIRE BOOKS PUBLISHING – BLU
Winner's choice, one ebook. Check out the link for the goodies.
YLVA PUBLISHING – Laydin
Winner's choice, one ebook! Hit the link to check out the fun.