You made it, did you? Here we are, friends! The last BLOWOUT day of this awesomely massive holiday book giveaway. THANK YOU to all the authors and publishing houses who were more than happy to provide books for this event! THANK YOU! THANK YOU for making this an awesome holiday and for of course helping the reindeer and elves outdo themselves in terms of parties while giving all these books away.
And they always have a blast doing it. ALWAYS!
Today's offerings are listed below. If you want in on the drawing, leave a comment on this blog. Please, one entry per person, friends. Let's share the luv. Make sure you provide a valid email address in the comment fill-out form. Nobody sees it except us in the back. 🙂 Do NOT put your email address in the body of the comment because the dark and scary bureau of anti-holiday fun has sent its minions of nasty little spam-bots across the interwebz, and they gather up email addresses for their nefarious spamotic purposes. We're trying to help you, here, folks.
The drawing closes at 10 PM EST US (world clock linkie dinkie). We do the drawing right after we close it, and then we pass the winners' contact info along to the authors, who will contact you directly. We also post the winners' names on this blog. So give the author a little bit of lag time to contact you. If you win a publisher's book, we here at Women and Words contact the winners to get information to submit to the publisher.
And authors, if your book is offered today, please refrain from the drawing because how freaking weird would it be to win your own book? Yeah. Pretty weird.
So thanks, everybody, for the awesome-ness. Thanks for joining us during the past 12 days, and here's hoping you have a great holiday season.
Have yourself a groovy little Christmas
Hope your reading's bright
And for a while your troubles will be out of sight
Have yourself a funky little Christmas
Make your yuletide GAY (OH SO GAY!)
Kick your troubles in the butt so they go away
Here we are on the last of twelve days
Happy Hootenanny days of yore
Faithful folks who are dear to us
And post comments with us once more
And this year we're all here together
Cuz the fates allowed
Fling your tinsel on the highest bough
And have yourself an awesome little Christmas now
HAPPY HOLIDAYS, everybody!
And now, here's your list. Dig in!
LYNN AMES – Petra harridge


You know her, you love her. You want to read her work. Lynn Ames has myriad standalone and series romances (Hello! Kate and Jay!) and she also does thrillers (hello! The Mission: Classified series!). You will not go wrong with any of her books. Lynn's offering winner's choice of any of her books. WOO!
RACHEL SPANGLER – Mish


Rachel's offering a paperback copy of Does She Love You? Annabelle Taylor has been with her partner for 13 years. Jaded Davis Chandler is finally dating who she thinks is the woman of her dreams. The problem is that both Davis and Annabelle are actually in love with the same woman. Nic McCoy is leading a double life and everything is about to come crashing down on all of them. Can all three women rebuild? Win and see!
CATHERINE BLACKFEATHER – Brooke Carr
Win yourself one print or ebook copy of Mitchie, about a young girl who flees Canada and disguises herself as a boy to live among men and heads west, like so many others. But her past comes calling, and she learns some valuable life lessons.
AMY DAWSON ROBERTSON – Joan Denman


You may know Amy as a writer of awesome thrillers. But did you know she also does romance? She's offering an ebook copy of her latest, Midnight in Orlando, to a lucky winner. Follow workaholic lawyer Susan Voight as she goes to a lesbian literary conference in Orlando to indulge her lesbian fiction fandom and maybe meet someone. Nic Green is the reclusive popular lesfic writer who also ends up in Orlando, where she meets Susan…will sparks fly? Hope you win to find out!
REBECCA SWARTZ – anne


This is Rebecca's debut novel, and it's a humdinger! Constable Emma Kirby is on security detail for rising country star Daina Buchanan. After a deadly explosion, the stalker after Daina targets Emma, too, and Emma has to work harder to protect the seemingly self-absorbed and difficult-to-deal with Daina, who is also used to getting what she wants. Winner gets a paper copy, but Rebecca might be able to work an ebook.
KAREN BADGER THREE BOOKS, THREE WINNERS! – Robin Hayes / Becky / lmcleanhoule
Three more books, three more winners!
You've been reading Karen's fiction for years. So here's your chance to win a book in her Commitment series!
In a Family Way (Book 1 of the Commitment Series)
Unchained Memories (Book 2 of the Commitment Series)
Happy Campers (book 3 of the Commitment series)
Follow Billie and Cat and their messy, complicated, often hilarious lives in the Commitment series.
BARBARA CLANTON – Angela


Book 4 in the YA Clarksonville series. Softball, young love, and the trials and tribulations of growing up gay. Winner gets a copy of this, Samantha's story. Her parents are super-conservative, and hiding her relationship with her girlfriend is getting harder by the day. That plus pressure from her coach after an error-filled game and friends pressuring her to come out make for a difficult time for young Sam. Winner gets a copy!
SAXON BENNETT – Debbie Roberts


Jane Graves is a wild and crazy college grad, an in-your-face lesbian activist with myriad girlfriends that she uses to avoid commitment. Her sister Fiona, also gay, is the opposite. Calm, controlled, organized. But she's struggling to maintain appearances. When Jane comes back to town, the sisters and women in their lives cross paths, and end up taking deeper looks at both sides of life and love.
AJ ADAIRE – Rowan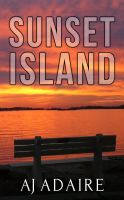 AJ's giving away a copy of Sunset Island. Ren Madison has it all. A private island, great family, great relationship with her partner and ample time to explore her passion for painting. But when her partner dies, she's left picking up the pieces. Enter Lindy Caprini, a professor looking for an illustrator for her book about fairy tales from around the world. She hires Ren, and the two settle into a comfortable light-hearted friendship. Could it blossom into more? Win a copy and find out!
ALYSSA LINN PALMER – Mary Kelly


Alyssa is offering an ebook version of The Artist's Muse. Broke and desperate after her girlfriend leaves her for a man, Colette finds work as an artist's model for artist Lise Beauclerc. Colette gets up the courage to ask her out, and things go well until a few days later when Lise introduces Colette to her former fiancé, a man. Marcel and Lise seem intimately involved, and Colette is sure she's destined to be devastated again. Will her feelings for Lise be unrequited?
CINDY RIZZO – Lita Vijums


Edgy, cynical writer Robin hits her first semester at college just wanting to write and finish school so she can get back to her homeless gay friends in NYC. She has no interest in women like Southerner Tracey, who keeps a fake boyfriend and a string of older women girlfriends on the side. In spite of all that, can they learn something from each other? And maybe find out a little more about themselves? If you win a copy, you'll find out!
AND! THE FAB OFFERINGS FROM THESE FAB PUBLISHERS!
BEDAZZLED INK PUBLISHING – Marie Castle
Winner's choice, one print or ebook. Hit the link to check the catalog.
BLUE FEATHER BOOKS – Kris k
Winner's choice, one ebook. Hit the link to check the catalog.
BOLD STROKES BOOKS – sjc1author
Winner's choice, one print or ebook! Hit the link to see the goods!
BYWATER BOOKS – Mary M. Perry
Winner's choice, one print or ebook! Click the link to see the goodies.
SAPPHIRE BOOKS PUBLISHING – Eileen
Winner's choice, one ebook. Check out the link for the goodies.
YLVA PUBLISHING – Diana
Winner's choice, one ebook! Hit the link to check out the fun.