Well, here we are, friends. Day 12 is upon us. I know, I know. It's like the Hootenanny just flies by, faster than reindeer on peppermint dust. We've had a grand and glorious time thus far, have we not? Well, DON'T STOP! Heck, we're not! The elves have got blow-out partying down to an art AND science, and I'll tell you what, even with the mess and the dancing and the snowball fights, the eggnog on the floor and ceiling (um, yeah), the tinsel strewn around the yard and the Christmas lights on the neighbor's dog, this is all about the luv! And we've luuuuved sharing every minute with you.
So thank you again, authors and publishers, for your gracious donations to liven up this holiday season, and for everybody's participation. You make this possible, all of you, and we are so very glad to be a part of it.
We've set this day aside as a special kind of tribute day. We're calling it
TRAILBLAZERS, PIONEERS, AND WOMEN OF INFLUENCE, and we think you'll see why below. It's important, friends, that you know your history and you know some of the works of those who helped build the road to where we are now, and those who have built followings and lasting reader luv. Some on this list are no longer with us, but some are. We'd like to pay tribute to them, and hope you get acquainted with (or re-acquainted) with their work.
You know the drill. If you want in on today's goodies, leave a comment on this blog. Include your email address in the comment fill-out form, but not in the comment body.
Please, one entry per person.
And friends, we do not match books to winners. The first person drawn gets the first book, the second the second, and so on. That helps minimize confusion in the back.
Drawing ends at 10 PM EST US (world clock here to find out WHEN you are). The elves get on that right after we close it down and we notify winners and post the names here on the blog. If your name is on the blog but you haven't received an email from us, check your spam filter.
NOTE: Print is specified for the country author will ship to. If there is no specification, the author or Women and Words will ship anywhere.
And…
Have yourself a merry little bookfest
hope your reading's bright
we hope that your troubles are out of sight
have yourself a merry little bookfest
keep your holidays GAYYYYYYY
never mind the crazy, read a book today
here we are, like in olden days
but these days, too, are golden days
faithful books that are dear to us
we gather them near to us once more
through the years we'll read them over again
and if the fates allow
we'll win some more and start reading right now
so have yourself a merry little bookfest
a merry little bookfest now.
(hint: "Merry Little Christmas")
Happy Holidays, everyone!
The goodies:
MARIANNE MARTIN – Winner jtzmom96


Marianne is a quiet but tireless pioneer. One of the best-selling lesbian authors in the country, Marianne realized her identity early, but in the 1950s and 60s, it was even less of an option to live openly. When she started teaching, she had to ensure she remained closeted, so writing lesbian fiction became a balm for her soul. She published with the legendary Naiad Press, one of the first publishing companies devoted to lesbian/feminist literature. When it closed, it was the largest and best-known in the world. In 2004, Marianne co-founded Bywater Books, where she manages general operations (which includes marketing, sales, and business communications). Bywater also launched the Bywater Prize for Fiction, an annual writing contest looking for well-crafted stories about and for lesbians. She is a GCLS Trailblazer award winner and a three-time Lambda finalist.
Marianne is offering a winner's choice of any of her books, paper (U.S.) or ebook.
RADCLYFFE – Winners Anita, Regina, and Denee


Radclyffe has written over 45 romance and romantic intrigue novels over the course of her writing career and edited numerous anthologies. She is an eight-time Lambda finalist and the recipient of the Dr. James Duggins Outstanding Mid-Career Novelist award from the Lambda Literary Foundation. She is also a Romance Writers of American award-winner. In 2004, Radclyffe founded Bold Strokes Books, a trailblazing publishing house that has built an international following and expanded to include gay, bi, trans, and queer writers and topics. In 2013, she also founded the Flax Mill Creek Writers Retreat, which offers writing workshops to writers at all stages of their careers.
Three lucky winners will win one book each of their choice from Radclyffe's bibliography (including writing as L.L. Raand). Paperback (U.S.) or ebook.
GERRI HILL – Winners Catherine, Cat, Michele, emlynchly, Donna, and Maryb


Gerri Hill is a multiple Lambda finalist and winner of several Goldie Awards as well as the recipient of the Alice B. medal for her body of work. She has also been voted a favorite lesbian author. She has published nearly 30 novels since beginning her writing career some 15 years ago and as a result has built a hefty following of her romances, mysteries, and thrillers, often with outdoor themes.
Gerri is offering 3 copies of The Midnight Moon (one each to three winners) and 3 copies of Angel Fire. Paperback (U.S.). NOTE: If you're not from the U.S., Gerri can accommodate 2 winners with ebooks (either Midnight Moon or Angel Fire).
CATE CULPEPPER – Winner …jaynes ; )


Cate left us much too soon, on October 25, 2014. Known as much for her Xena fanfic, speculative fiction/horror and romance as for her mentoring and ability to connect with virtually everyone she met, Cate remains with us in the work she left behind and the memories that the myriad people who encountered her carry and share. She was a Lambda, Goldie, Rainbow, and Alice B. award-winner, beloved by fans and friends. Outside her writing life, Cate was a social worker who supervised ISIS House, a housing program for homeless LGBTQ youth in Seattle through YouthCare. Of her writing, she told fellow author Jove Belle that
I people my stories with the kind of women I hope to have in my life. My characters have helped me define what I'm looking for in relationships. The friends I value most have the courage of the Amazons in the Tristaine novels, and the passion and kindness of those in Fireside and River Walker. I believe writers create that emotional resonance when their characters reflect their bonds with those they love.
In honor of Cate's enduring legacy, Bold Strokes Books is offering one copy of her complete Tristaine series. Print (U.S.) or ebook.
ANN BANNON – Winners RJ, Jackie Baker, Alexis Parker, bookish butch, cw, and Heather Harper


In the world of lesbian fiction, if there were a definition of "legend," a picture of Ann Bannon would be right there. From 1957 to 1962, she wrote the Beebo Brinker Chronicles, and has rightly earned the moniker "Queen of Lesbian Pulp Fiction." Her books helped shape both lesbian and straight identities, but ironically, Ann didn't realize the impact her books had. She stopped writing in 1962 and went on to an academic career. She separated from her husband in the 1980s and her books were re-released. Ann was stunned to learn that her books were cherished and were being taught, and were also the subject of academic papers and dissertations. She has earned numerous awards for pioneering LGBT literature. Her books are taught in women's and LGBT courses, and in 2001-2003, her books were released again and turned into an off-Broadway production.
Here, Ann is offering SIX BOOKS, one each for six winners. Those books are signed:
2 Odd Girl Out, 2 Beebo Brinker, 2 I Am a Woman. Paperback.
KATHERINE V. FORREST – Winners Jay and Zea Apa


Lambda-winning Forrest's Detective Kate Delafield is the first lesbian police detective, thus launching the genre in American lesbian fiction. The first book in the series, Amateur City, was published in 1984 by Naiad and has since been republished by Bella Books. In 1983, Naiad also published Katherine's Curious Wine, considered a classic of lesbian literature for its themes and positive portrayal of romance and sexuality between women, probably the book that supplanted The Well of Loneliness as the first lesbian book many young lesbians read. Since then, Katherine has written eight more Delafield novels as well as romances, speculative fiction, and erotica. She's also influenced at least 2 generations of lesbian fiction writers through her editing.
2 WINNERS ALERT! Katherine has put up a signed paperback copy of her latest Kate Delafield mystery, High Desert. Women and Words is putting up an ebook copy (Kindle is the fastest choice and easiest for us to get to you) of the book that started the lesbian detective genre, Amateur City.
LEE LYNCH – Winner piscesmoon2u


Lee started writing lesbian fiction in the 1960s. She also writes nonfiction, and was a frequent contributor to The Ladder, the first nationally distributed lesbian magazine in the U.S. She has published essays, novels, feature articles, and reviews. Her portrayals of butch/femme relationships have set a literary canon for many lesbian writers since the 1970s. She has received numerous awards for her work, and continues to write. May that go on for many more years.
Lee is offering a 3-PACK to 1 lucky winner, who will receive a copy of American Queer: The Amazon Trail, a collection of Lee's essays that chronicle over a quarter-century of LGBT life; The Swashbuckler, a vivid, heartwrenching and heartwarming portrayal of life in New York City's Greenwich Village during the 1960s and 1970s; and The Butch Cookbook, a lighthearted collection of recipes contributed by butches around the world (fun fact: the Cookbook has a cameo appearance in movie The Perfect Family. Kathleen Turner picks it up and gives her pregnant lesbian daughter a look.) Paperback (U.S.)
NANCY GARDEN – Winner Jacky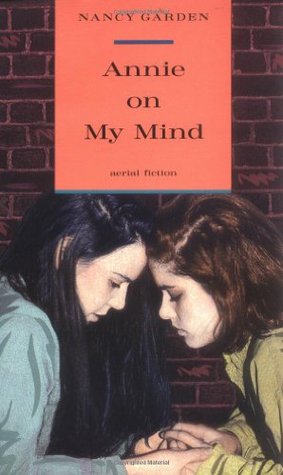 Nancy Garden left us June 23, 2014. She published Annie on My Mind in 1982 with a major house. It's considered a pioneering work in lesbian fiction because of its positive, sensitive, and honest portrayal of young lesbians coming of age. It garnered controversy because of its subject matter, but in spite of that, it has remained continually in print since. The book was also banned and burned in Kansas in 1993. A First Amendment lawsuit in 1995 returned it to shelves, and Garden became known for her championing of intellectual freedom, and was recognized for "significant and lasting contribution to young adult literature."
Women and Words is offering 1 paperback copy of Annie on My Mind to a winner.
ISABEL MILLER – Winner Vanessa


Set in 19th century New England, Miller's classic lesbian-themed novel Patience and Sarah traces the relationship between painter Patience White and farmer Sarah Dowling, whose romantic bond doesn't sit well in the Puritanical community. First published in 1969, the author hand-sold the copies on street corners in New York City. Slowly, it garnered more attention and in 1971 was awarded the American Library Association's first Gay Book Award. The book was a touchstone for the women's movements of the 1960s and early 70s.
Women and Words is offering one paperback or ebook (Kindle only) copy to a winner.
OCTAVIA BUTLER – Winner aduncan


Octavia Butler didn't broadcast her sexual orientation, nor did she write lesbian fiction. She was, however, a pioneer in science fiction — the first African American woman to come to prominence in the genre — exploring themes in a powerful and wholly unique voice. An African American lesbian writing science fiction was simply unheard of (still is, in many quarters), but she won both the Hugo and Nebula Awards (science fiction's highest honors) and was the recipient of a MacArthur Genius Grant. Themes of gender ambiguity are rampant in her work, as well as explorations of human relationships and globalism. She also wrote about the psychology of how unusual creatures make their ways in hostile worlds — outsiders addressing and confronting different worlds. Slate said, "Her ability to both understand the outsider perspective better than others and then to invert it, places Butler above her science-fiction-writing peers. She is a disturbing and important writer who transcends the usual genre categories." The Washington Post referred to her as "one of the finest voices in fiction, period." Taken too soon, Octavia Butler left us in 2006 at the age of 58.
Women and Words is offering one copy of Dawn, the first in Butler's Xenogenesis trilogy, considered in some quarters her masterpiece. Kindle or paperback.
RADCLYFFE HALL – Winner sacchigreen


British author Hall published The Well of Loneliness in 1928 and it was promptly banned for ten years in England. The novel follows the life of Englishwoman Stephen Gordon, born into an upper-class family whose "sexual inversion" (homosexuality) was apparent from an early age. She manages to find love with Mary Llewellyn, who she meets while serving as an ambulance driver in World War I. Their relationship is marred by social isolation and rejection, but the novel itself has an implicit plea to consider gay people normal, and just like everybody else. Hall faced numerous legal battles over the novel, and ironically the publicity surrounding the battles brought increased visibility to lesbians in the U.S. and U.K. For decades, it was the best-known lesbian novel in the English language.
Women and Words is offering one ebook (Kindle). (Latest paperback version is with Penguin Classics and will be available in February, 2015. A winner is welcome to wait for that edition in paper if he/she wants.) Or we can hook you up with an older paperback version.